Pest Termite Control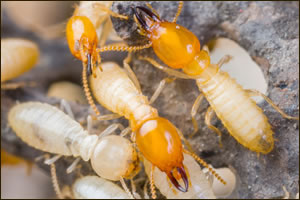 Each year termites invade millions of homes. Left untreated, termites can literally eat up the equity in your home. They cause billions of dollars in damage, which is rarely covered by homeowners insurance. Any home, regardless of its construction type, can offer the ideal combination of warmth, moisture, and food for a termite attack.
Termites are primarily found in the south but are present in every state except Alaska. Termite control is very important if you live in the south.  It's not if you will get termites, but when. Termites are known as to chew through wood, flooring and even wallpaper undetected. A termite inspection by a licensed professional is the first step in termite control and protecting your property from these voracious pests.
Possible signs of a termite infestation
Thin, mud tubes running across bare concrete or masonry between the soil and any wooden part of your building
Discarded wings from swarmers
Hollow sounding wood
Cracked or distorted paint surfaces
Any wooden building parts that begin to sag unexpectedly
Frass- Wood color droppings that termites leave as they eat through the wood
A temporary swarm of winged insects in your home or from the soil around your home